World War I
Chaplain Has Got Word to Stout Home
Papers, Pictures Arrived From City's Hero
There has arrived at the home of U. S. Marshal and Mrs. Cooper A. Stout a letter and packet of papers and pictures from their son, Paul Newton Stout's army chaplain.

"From these and their delivery," Mrs. Stout stated today, "we know that Paul has not been with his company since July 19; that he gave the chaplain the papers and photographs before he went out to battle."

The date is that of the Murphysboro soldier's death as reported by the War Department by private wire and casualty lists, presumably in one phase of the battle of Chateau-Thierry.

The chaplain's letter today was indefinite, it was stated at the home. The officer wrote among other things that Paul and he were friends for a long time before the fight.

Of the pictures sent were one of both the father and mother.

The chaplain promises to write another letter soon, and give more definite details.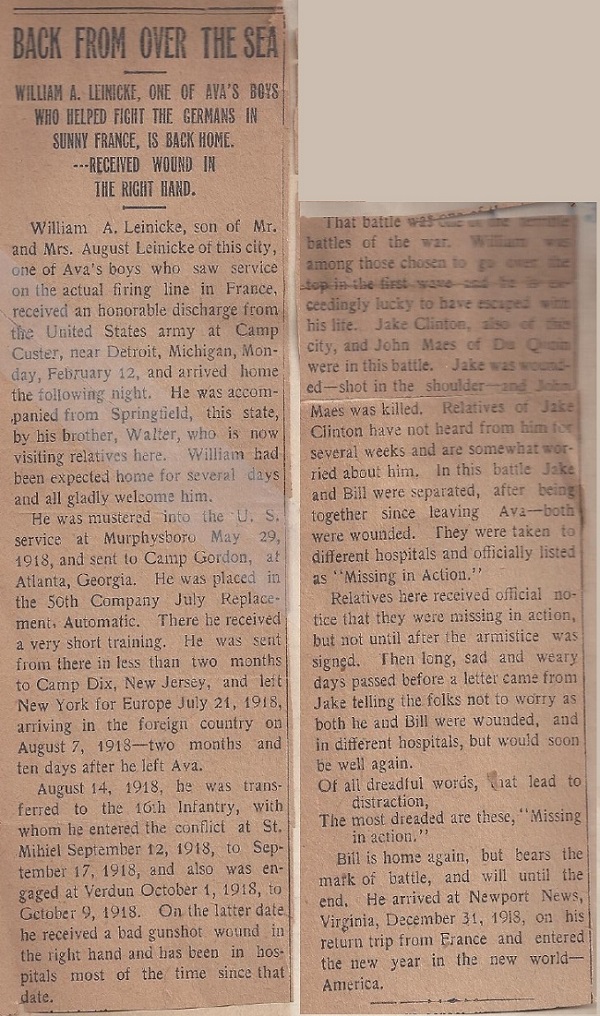 Back From Over the Sea
William A. Leinicke, One of Ava's Boys Who Helped Fight the Germans in Sunny France, is Back Home. – Received Wound in the Right Hand.
William A. Leinicke, son of Mr. and Mrs. August Leinicke of this city, one of Ava's boys who saw service on the actual firing line in France, received an honorable discharge from the United States army at Camp Custer, near Detroit, Michigan, Monday, February 12, and arrived home the following night. He was accompanied from Springfield, this state, by his brother, Walter, who is now visiting relatives here. William had been expected home for several days and all gladly welcome him.

He was mustered into the U. S. service at Murphysboro May 29, 1918, and sent to Camp Gordon, at Atlanta, Georgia. He was placed in the 50th Company July Replacement Automatic. There he received a very short training. He was sent from there in less than two months to Camp Dix, New Jersey, and left New York for Europe July 21, 1918, arriving in the foreign country on August 7, 1918 – two months and ten days after he left Ava.

August 14, 1918, he was transferred to the 16th Infantry, with whom he entered the conflict at St. Mihiel September 12, 1918, to September 17, 1918, and also was engaged at Verdun October 1, 1918, to October 9, 1918. On the latter date he received a bad gunshot wound in the right hand and has been in hospitals most of the time since that date.

The battle was one of the terrible battles of the war. William was among those chosen to go over the top in the first wave and he is exceedingly lucky to have escaped with his life. Jake Clinton, also of this city, and John Maes of Du Quoin were in this battle. Jake was wounded – shot in the shoulder – and John Maes was killed. Relatives of Jake Clinton have not heard from him for several weeks and are somewhat worried about him. In this battle Jake and Bill were separated, after being together since leaving Ava – both were wounded. They were taken to different hospitals and officially listed as "Missing in Action."

Relatives here received official notice that they were missing in action, but not until after the armistice was signed. Then long, sad and weary days passed before a letter came from Jake telling the folks not to worry as both he and Bill were wounded, and in different hospitals, but would soon be well again.

Of all dreadful words, that lead to distraction,
The most dreaded are these, "Missing in action."

Bill is home again, but bears the mark of battle, and will until the end. He arrived at Newport News, Virginia, December 31, 1918, on his return trip from France and entered the new yar in the new world – America.